[CSSBUTTON target="http://tidd.ly/ff22514e" color="003399″ float="left"]Check Latest Deals on Vitus Vee[/CSSBUTTON]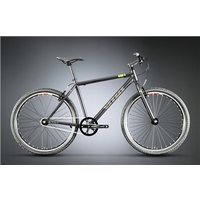 Built like a mountain bike with really wide handlebars but with equipped with thin, slick tyres, the Vitus Vee 1 makes a great machine for cycling to work.
It's dead simple and there is very little to go wrong. It's a single speed with a ratio that's just right for getting up the hills without limiting the top speed to much on the flat.
The bike comes with a set of v-brakes which are really easy to adjust yourself and give plenty of stopping power.
The frame is a stiff aluminium job, with a steel fork to soak up the bumps in the road on the way to work. We love the simple matt black paint job too.
The stable riding position is great for confidence, weaving in and out of the traffic, plus it's easy to pull a wheelie. Great fun!
[CSSBUTTON target="http://tidd.ly/ff22514e" color="003399″ float="left"]Check Latest Deals on Vitus Vee[/CSSBUTTON]
Vitus Vee 1 bike specifications
Frame: Aluminium
Gear type: Single speed
Gear brand: n/a
Gears: 1
Brake type: V-brakes
Weight: 10.8kg