The Times launch cycle safety campaign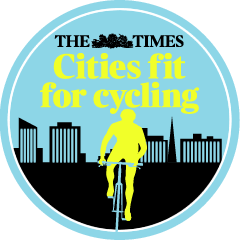 At RideIn we focus on delivering information and getting people the best commuter bicycle setup to make the journey to work as safe and enjoyable as possible. National newspaper, the Times, has launched a campaign to help improve safety for cyclists on the roads in the UK.
The campaign was a reaction to the severe injury of a Times journalist, hit by a lorry whilst riding her bike to work. Mary Bowers remains in a coma three months later.
The campaign is based on an 8-point manifesto:
Trucks entering a city centre should be required by law to fit sensors, audible truck-turning alarms, extra mirrors and safety bars to stop cyclists being thrown under the wheels.
The 500 most dangerous road junctions must be identified, redesigned or fitted with priority traffic lights for cyclists and Trixi mirrors that allow lorry drivers to see cyclists on their near-side.
A national audit of cycling to find out how many people cycle in Britain and how cyclists are killed or injured should be held to underpin effective cycle safety.
Two per cent of the Highways Agency budget should be earmarked for next generation cycle routes, providing £100 million a year towards world-class cycling infrastructure. Each year cities should be graded on the quality of cycling provision.
The training of cyclists and drivers must improve and cycle safety should become a core part of the driving test.
20mph should become the default speed limit in residential areas where there are no cycle lanes.
Businesses should be invited to sponsor cycleways and cycling super-highways, mirroring the Barclays-backed bicycle hire scheme in London.
Every city, even those without an elected mayor, should appoint a cycling commissioner to push home reforms.
Pledge your support at the campaign webpage.
What do you think of the 8-point manifesto?