RideIn.co.uk is your resource for getting the right bike for you at the best price. We reviewed all the major high street and online bicycle retailers focusing on value for money and quality. For the savvy buyer looking for the best deal on a commuter or hybrid bike the best, cheapest and most secure way is to buy online through an established retailer such as amazon.
RideIn.co.uk is an online resource set up for you to get the best out of your cycle to work and choose the right bicycle and equipment. Bike reviews, cycle to work guides and all the information you need to get commuting by bicycle. We focus on getting great value from your commuter bike. Everyone has different requirements for their commute to work. Your best commuter bike might be a racer or a hybrid bike based primarily on what kind of terrain you are on focusing on making your commute the easiest and most comfortable it can be. Smooth city roads are not always easy to come buy! If you are considering the hybrid against other types of bikes check out our hybrid bikes comparison article.
Some of the major cities In the UK such as London require a bike that can hop on and off pavements weave through traffic whilst being able to get a good performance flat out in a straight line.
From mountain bike reviews to road bike reviews we at ride-in cover the complete range bicycle types and brands so you can make an informed choice and find the best cycle to work bike. Reviews of all the latest commuter bikes as well as cycle accessories for traveling to work on two wheels. We also review commuter bicycles in different price brackets such as our best bikes under £300 reviews. Our aim is for you to find the best commuter bicycle for your needs, from the frame size, body position, bike weight through to quality and price range. We also keep up to date on the latest commuter bike sales and post any relevant cycle vouchers and discounts. Read through our advice, if you can't find your ideal bike or are still unsure feel free to drop us a line by email on contact@ridein.co.uk.
Read our cycling gear and bike reviews across a range of road bikes and bikes for the city to get the best commuter bike and cycle gear for your needs. Use our cycling to work guides to understand how the scheme works, find out how much money you can save and see how you can improve your health too!
Types Of Commuter Bikes
So, you want a bike to ride to work?
But which type of bike will work best for you?
In this section we outline the best cycle options available for daily commuting.
Racing bicycles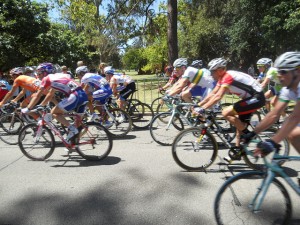 Out and out the quickest bikes on the road, sacrificing some comfort they'll get you to work on time. The quality of the road surface is something you are going to need to pay a lot of attention to when deciding to use a racing bike to take you to and from work. If teh roads are bad it may change your commute from slightly uncomfortable to intolerable or even dangerous!
Pros of racing bikes for commuting
Fast
Lightweight
Responsive
Wide range of gears
Cons of racing bikes for commuting
Less comfortable – depending on how flexible you are and road surface
Riding position leaning far forward
Fragile – can be damaged by kerbs and potholes
May not have carrying capacity of other bikes
Why a racing bike?
Racing bikes are designed for just that – going as fast as possible. They are lightweight with narrow wheels and tyres, drop handlebars and a tucked riding position which all combine for the least resistance against the tarmac and the air possible. If you want to get fancy you can even upgrade to carbon frames and wheels.
As well as sacrificing some comfort for speed, racers are also more fragile than other bikes, so riders need to take when mounting curbs, bouncing through potholes or taking bikes off the tarmac.
Also, with speed in mind, not all racers have the capacity to attach racks and panniers.
Single speed & fixed wheel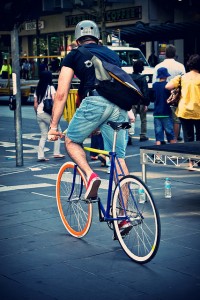 A cheap, low maintenance alternative for those living in relatively flat areas…
Pros of a fixie bike for commuting
Low maintenance – very little to go wrong
Cheap – for the quality of bike – as there are no gears to pay for
Lightweight
Simple to fix
Sleek, pared-down look
Can help improve fitness
Cons of a fixie bike for commuting
Hills!
Skill required to ride fixed wheel
Why a single speed?
Exploding in popularity over the past few years, fixed wheel and single speed bicycles have taken over the streets in all their retro, classic and multi-coloured glory.
But as well as looking cool, they are fantastic for commuting. They are lighter, require less maintenance and are cheaper than their geared cousins.
Of course, these bikes have only one gear, which is adjusted to be the best for cycling along relatively flat ground – so it can be hard work, out of the saddle, getting up hills, and you will soon find you are at top speed on the down hills.
Nevertheless, you'll be surprised that overall, over the entire journey, you will be nearly as fast.
Plus, keeping that steady pedalling rhythm is great for your overall fitness. When you get back on a geared bike, you'll be pedalling harder and faster.
The difference between single speeds and fixies?
The fundamental difference is that a fixed wheel bicycle has no freewheel.  On a normal bike, when you stop pedalling, you 'freewheel' –  i.e. the back wheel continues rotating while you rest your feet on the pedals.
However, on a fixed wheel bike, the pedals directly drive the wheel, so if the wheels are turning, so are the pedals. This means that on a steep descent the rider either has to turn the pedals very quickly or slow down.
As well as using the brakes, it is possible to resist the force in the pedals and slow down in this way. It's also possible to ride backwards!
Single speeds, on the other hand are just that – bikes with just one gear.
Hybrids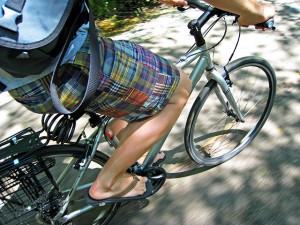 Combining the upright riding position and gears of an mountain bike with the speed of a road bike…
Pros of a hybrid bike for commuting
Suitable for most riding – up and down curbs and even a little off-road
Comfortable – not such an aggressive riding position
Wide range of gears
Quicker than a mountain bike
Cons of a hybrid bike for commuting
Best of no worlds – neither a true road bike nor an off-roader
Fragile – can be damaged on curbs
Why a hybrid?
More and more popular each year, the hybrid brings the flat handlebars and upright riding position of a mountain bike together with the slick tyres and thin wheels of a racer. Often people are upgrading their riding experience by adding carbon wheels to make their commuting that little bit smoother.
The resulting bike still isn't as fast as a racer but far quicker than a mountain bike. With the flat bars and more upright position, it's also more comfortable. Check out our hybrid bike reviews page for the latest hybrid bike details.
Nevertheless, with it's less sturdy wheels they can be prone to damage if you are going up curbs and slicing through potholes.
Town bikes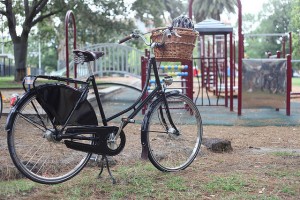 Great for cruising over short distances, to the shops or to work, with a very upright riding position, these bikes are built for comfort rather than speed.
Pros of a town bike for commuting
Very comfortable
Low maintenance – if hub gears
Great for cruising along on
Cons of a town bike for commuting
Why a town bike?
These old fashioned bikes are built with comfort in mind with a bolt upright riding position, and often, a sprung saddle. What my mother calls a '"sit up and beg" bike. They are often designed with an attractive vintage feel and will look good with a basket.
Other variations on the theme include traditional Dutch bikes and American style cruisers.
As well as looking great and being a very comfortable, relaxed ride, this type of bicycle is usually very low maintenance. Many aren't equipped with gears at all, and those that are usually use hub gears. With hub gears the entire mechanism is inside the hub and is very unlikely to go wrong (although if it does you will almost certainly have to visit a bike shop).  They also use simple caliper braking systems which are simple to adjust.
So what are the drawbacks? Well, the comfortable upright posture provided by these bikes, coupled with their solid, old fashioned construction means that they are slow and heavy to ride. They are fine for short journeys on relatively flat ground but for any longer journeys with some incline you will get tired very quickly.
Folding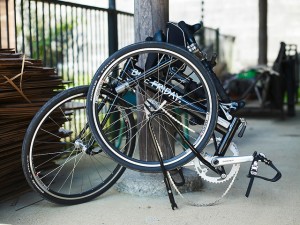 Folding bicycles are the best machines if you want to combine cycling with a train journey or have no space to store a bike.
Pros of a folding bike for commuting
You really can take it anywhere
Convenient to store
Cons of a folding bike for commuting
Slower
More uncomfortable
Fragile
Why a folding / collapsible bicycle?
It's simple really – folding or collapsible bikes are easy to store and quick to fold up, in case you want to take them anywhere you couldn't normally bring a bike. They are loved by commuters who combine a cycle ride with public transport. Ride to the train station, catch your train, and then finish the journey to work at the other end by bike as well.
Likewise, if you have nowhere to store a bike, these fit easily in a cupboard. What's more, in areas where bike theft is an issue, you needn't leave your bike outside unattended at all.
So, why don't we all have folding bikes? Well, you pay a price for convenience and, in this case, folding bikes tend to be slower and more uncomfortable than standard bikes. As the wheels are smaller you'll need to pedal harder and this also means you'll feel the bumps in the road more.
They are also a bit more fragile than normal bikes, so you shouldn't be jumping them off curbs although, as this video proves, you can!

Recommended Sizes Guide
The difference between on road and off-road sizes
Getting the best size bike for riding on the road, and the best size for riding off-road are quite different.
As this site is dedicated to riding to work, this page only includes information on how to get a bike for cycling mainly on tarmac.
The main difference is that for more extreme off-road riding, you may have to dismount quickly – and you'll want a decent distance between yourself and the crossbar when this happens.
Bike sizes
The size of a bike is based essentially on the length of the seat tube, the tube that runs from the crank axle to the the top of the seat tube, where the seat post is inserted.
But it's not just the length of the seat tube which increases as bike size increases – the rest of the bike changes in proportion. Check them out first if you are buying online or aren't able to check the bike size out in person before you buy.
Frame size guide
Racing bike frames are usually measured in centimetres ranging between 45cm for someone 4'10" tall to 65cm for a riders of 6'4" and taller.
Meanwhile, many hybrid and town bikes are measured in inches or given a size (S, M, L, XL) which equate to a certain frame size depending on the manufacturer.
Standover height
In order to measure the standover height of a bike you need to check the clearance between the cross bar and your crotch. In order to avoid any unfortunate collisions, it's essential that there is a decent amount of clearance. One or two inches is sufficient for a road bike standover height for a cyclist riding a racer or hybrid. If the bike has a sloping top tube the distance will be greater.
More clearance will make the bike more manouverable but will also mean that you riding in a more tucked, aerodynamic position – as the saddle will need to be higher. Less clearance means a more comfortable, upright riding position, but the bicycle will be slightly more sluggish.
Cycling to work
Ride in is focused on cycling to work in 2015 and beyond. Use our guide to see how the cycle to work schemes operate and the best bike to work scheme for you. Ride to work and save money by taking advantage of the HMRC tax relief through the government cycle scheme . Find out how the scheme works and how much you can save by buying through shops opted into the scheme. If you are on a tight budget then getting on board with the cycle scheme could really help you get commuting by bike. With the tough economic climate in 2015
there has never been a better time to get on your bicycle as an affordable and healthy way of commuting to and from work. We give you cycle to work tips so you can work out the right routes and get other advice on what to consider on your cycle commute. We are obviously big cycle to work advocates and encourage people to get on their bikes and if you are already cycling to work ways of improving your cycle commute. It can have life changing effects on your health by losing weight and saving money at the same time. However we also are well aware of the dangers for the person who commutes to work. Read through our safety advice and how to handle yourself on the road.
Bicycles for ladies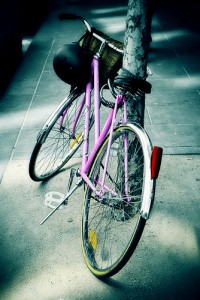 In Victorian times when cycling really took off among both men and women, the only difference between their bikes was the presence or absence of a crossbar.
It was considered undignified for a woman to climb on to a bicycle, thus lifting her skirts. So, ladies bikes were constructed without the crossbar.
However, quite a few things have changed since then, especially the assumption that women will always be wearing a skirt.
It's not all about the crossbar
These days, although most standard bicycles are still designed with men in mind, many manufacturers produce women-specific models which have been developed to suit the specificities in female anatomy, rather than their style of dress.
In fact, many modern ladies bikes actually have a crossbar. The simple fact of the matter is that the triangular shape of a gent's cycle frame is exceptionally strong and can withstand plenty of punishment. For example, you will categorically never see a downhill mountain bike without a crossbar for that very reason.
However, many modern ladies bikes still don't feature a crossbar, and as long as you are not hurtling down mountainsides or performing audacious jumps, they will be plenty strong enough and ideal for cycling. Plus, if you do choose to wear a skirt, it's easy to jump on and off.
Bicycles designed for women
There are a number of differences that you will notice when you see a specially designed woman's bike which adapt the standard bicycle to the female body:
Smaller frame sizes
A wider saddle, to accommodate women's wider sitting bones
A shorter crossbar, due to the women's shorter upper bodies
Narrower handlebars
Brake levers with a shorter reach
Shorter cranks
Smaller wheels
Many of these alterations are made in order to keep the bike in proportion, even in smaller frame sizes. Hence the smaller wheel size, for instance. The differences may be quite subtle, so it's worth trying a few out to see what is best for you.
Can a woman ride a man's bicycle?
Of course, the vast majority of bikes out there, especially in the second-hand market, are men's bikes. Choosing a bike should be about personal comfort, so pick your bike on how it feels to ride, not whether it's a men's or a women's model.
The differences between men's and women's bikes are subtle, so if you try a men's bicycle and it feels good then go for it!
Best commuter gear
Getting the right gear for your cycle to work is essential to enjoying a safe and comfortable bike to work. We review all the gear from cycle jackets to keep the rain off to bike lights to ensure you are safe and seen on the roads. Getting the best cycle lights is essential in staying safe especially on unlit roads which are commonplace around the UK. If you are on a budget it is unwise to think of these as an unnecessary cost, they could save your life when you are out on the road! Cut the cost of your cycle lights by considering self power generating lights that use a dynamo. Quit worrying about 'helmet hair' dont take any advice from sites like this and understand the safety benefits of wearing a bicycle helmet on your everyday commute. We look at all the cycling latest brands and retailers such as Halfords Wiggle etc to help you understand what the essentials are for your commute. We also understand that not everyone has the same budget so we look at value for money and affordability against the quality of cycling equipment. Weighing up the pros and cons to get the rider the best for his or her money. Use our reviews and guides to work out the best bike kit for you.