The Boardman Performance Hybrid Comp is a fantastic commuter bike, bringing the speed an agility of a racing bike to a flat bar model.
This is a step up from entry level bikes, but you won't get more bang for your buck in this category. The bike comes equipped with a smooth changing SRAM gear set up and a powerful set of Avid mechanical disc brakes which will get you quickly and safely to the office.
Chris Boardman bikes
Boardman pro bikes named after the found Olympic champion and world record holder Chris Boardman simply offer some of the best value cycles on the market.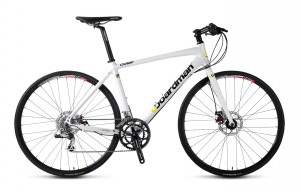 Whether you're looking to upgrade from an entry level model or want that extra performance from the start, this could be a great choice of bike. For commuting we are a big fan of the boardman hybrid comp, review our boardman cycles page for more info on the boardman bikes range, different boardman models and the best upgrades available.
Boardman comp performance hybrid comp 2011 specifications
Frame: Aluminium
Gear type: Derailleur
Gear brand: Sram x 5
Gears: 18
Brake type: Mechanical Disc
Weight: 10.7kg