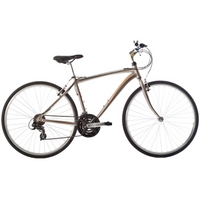 This is a great package for less than £300.
Decent Tektro v-brakes, a functional set of 21-speed Shimano gears and a stiff aluminium frame with a chromoly fork will happily see you to work and back.
The Raleigh Urban doesn't do anything flashy, it's just a very functional hybrid.
This bicycle is ideal for those who want a very honest, great value bike that's up to their daily commute.
Above all the bike feels really robust and ready to be ridden day in day out. For great value for under £300 we rate the raleigh urban 1, review our commuter bikes for under £300 for more great value bicycles for cycling to work.
£209.99
Raleigh Urban 1 Specifications
Frame: Aluminium
Gear type: Derailleur
Gear brand: Shimano
Gears: 21
Brake type: V-brakes
Related posts: