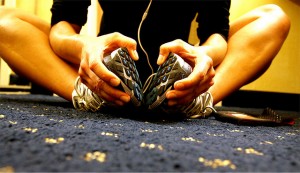 This is a simple five-step warm-up which will help to prepare your muscles for your cycle to work.
While it is possible to do a warm up on your bike, it's actually easier and more effective to stretch the main muscle groups off your bike with a handy bit of wall.
1. Hamstrings
Stand up straight, pull your knee to your chest and feel the muscle under your leg stretch. Repeat with your other leg.
Touch your toes – an old classic. Stand with your feet shoulder width apart and bend from the waist as far as possible towards your toes. Hold for 15-20 seconds. Breath in and out while holding and try and stretch a little further on each out breath, but only as far as is comfortable. This stretch also engages your lower back muscles.
2. Quads
Stand straight and lift one heel up to touch your buttocks, holding it in position with your hand. Feel the stretch along the front of your thigh. Hold for 15-20 seconds. Swap to the other foot
3. Calves
Put both hands against the wall, with one foot in front of the other. Keep the back leg straight and push your back heel into the ground. Keep a straight upper body and gently lift you hips. Hold for 15-20 seconds. Repeat with the other foot.
Now move closer to the wall with your feet next to each other. Keep both bands on the wall. Put most of your weight on one leg and bend this knee slightly, keeping the foot flat on the floor. Feel the stretch in your lower calf. To stretch further lean into the wall.
4. Upper body
It's your legs that do most of the work when cycling but you'll be surprised how much you use the upper body – especially if you have hilly cycle into work.
Put your hands on your hips and circle your body, ten times one way and then ten the other.
Windmill both your arms, ten times forwards, then ten times backwards.
Stretch both hands up to the sky and look up at them. Hold for the count of 10. Now, still looking at your hands, point them to the left about 30 degrees. Hold for 10. Then lean the same distance to the right and hold for 10. You'll feel a stretch in your torso and up both sides.
5. Neck
Many of us will be cycling in a fair amount of traffic, for at least some of our journey during commuter hours, so we need to keep an eye on what's going on in front and behind us. This means looking around while riding.
Your neck muscles have a tendency to really go to sleep at night and take a lot longer than other parts of the body to wake up. Make sure you give yours enough time to prepare.
Lean the head to the left and hold for the count of 5. Then forwards for 5 to stretch the back of the neck. Then finally to the right for 5. Repeat.
Now put both hand behind your head and push back with your head for 5 seconds. You' feel a stretch in the front of your neck.  
Now you are ready to cycle to work!